I'm linking up with
Oh Amanda
today for her Top Ten Tuesday series.
Amanda is a "new to me" Blogger I've just discovered recently via Amy Bennett of
Permission To Peruse
. Speaking of, if you're not already reading Amy's blog you need to put her in your reader pronto.
Her space is one of my 1st stops every morning!
So in case you're unfamiliar, Oh Amanda's
Top Ten Tuesday series
is a open to any Blogger every week. You just need to formulate a list comprising of 10. And that can be 10 of anything. Then link up!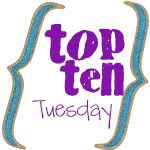 Top Ten Coolest Things I've Seen On The Web Lately
1. A note to all of you that are sweet enough to comment on my blog: Please let me reply back to you!
Here's how. Update your Blogger profile y'all!
2. I can't get enough of this video. This must be the most patient dog on earth. Watch how he waits for this adorable baby to feed him cheerios. He never goes for the plate. Sweetest thing ever!


3.
Engagement Chicken
. While I'm already married, I'm still making this for Jeff asap. Maybe I'll get another diamond?! Kidding. But seriously, this is the most scrumptious recipe for engagement chicken I've ever seen. And evidently it works! Alright single ladies, get on this ;)
5. I loved this!
My Life In Colors Quiz.
We're going to remodel our Florida Room this Spring and this was a big help. If you're wondering which colors best suit your personality & lifestyle- take the quick quiz!
6. From one of my favorite Fitness Blogs: An
Appreciation Challenge.
I just love this idea! For the rest of the month of February, every day you verbally tell someone that you appreciate them. You can
write a thank you note, pay someone a compliment, call a friend & tell them you love them, etc.
It's a bigger way of counting your blessings. You're intentionally spreading kindness. Pretty cool, huh?
8. This is bookmark-worthy y'all! Pete Wilson's blog post about handling criticism:
Things That Shine
"Don't you worry your pretty little mind. People throw rocks at things that shine."
10. And the best "Soldier Returns Home" video I've ever seen. Hands down.
So what are your favorites? And what cool things have you stumbled upon lately? Click on over to Amanda's blog and check out some other Top Tens. Better yet, link up with her next week!
Happy Tuesday y'all!